Last updated on October 9th, 2022 at 10:03 am
*This post may contain affiliate links. As an Amazon Associate we earn from qualifying purchases.
1. Lake Havasu

Lake Havasu is a reservoir lake that is on the border between California and Arizona.Being that this lake is in both states it isn't a pure California suggestion but if you have a houseboat in California this is a great place to boat!

Lake Havasu has 19,300 acres of surface area. It also has 60 miles of navigable water and 400 miles of coast line. Source

There is really only one city along Lake Havasu and that is Lake Havasu City. (surprising name huh) There are a few different places that you can stop along the lake shore but the only real town is Lake Havasu City. 

Another great option, if houseboating on Lake Havasu, is to beach your boat and camp out. There are tons of coves and beaches along the 400 miles of coastline where you can bring your houseboat right to the beach, anchor it, and camp on the boat or on shore. 

Lake Havasu even has some places that they have installed grills, picnic table, and bathroom facilities along the beach!

If you are in California or Arizona this lake is an excellent option for your houseboat adventures. 
2. Lake McClure

Lake McClure has 7,000 acres of surface area with 80 miles of shoreline. This lake is obviously smaller than Lake Havasu but is still a great option for your houseboating trips. 

Lake McClure's daily or yearly rates are also very reasonable ($7 a day for a boat or $80 a year) so you can go back often without great expense. Current rates can be found here.

The nearest town to Lake McClure is Coulterville. With a population of 200 it's a far cry from the town size of Lake Havasu City. 

There are 3 marinas on the lake so you won't be without services or docks but you will definitely be more "off the grid" at Lake McClure than on Lake Havasu. 

Lake McClure is known for its great fishing spots as well as gorgeous scenery. Since it is further off the beaten path, Lake Mcclure is relatively untouched by modern life. 

If you don't own a boat and are looking to rent one the Barrett Cove Marina rents boats and other fun watercraft. 

If you are looking for a place to houseboat for weeks or months then Lake McClure probably isn't for you. However, if you are wanting a nice quiet place to stay for a few nights, then it is a great option!
3. Trinity Lake
Trinity Lake is a larger lake that covers 17,280 surface acres. It has 145 miles of shoreline with many coves that are perfect for anchoring or beaching your houseboat. 

There are dozens of campgrounds available around the lake if you want to anchor your boat and camp on shore for a few nights. There are 3 marinas that serve the lake with Trinity Lake Resort and Marina being the largest. This marina has boat rentals as well as cabin rentals if you prefer to stay off the water. (cabin rentals are $98 a night)

Again, this lake is more off the beaten path with the two nearest towns being Trinity Center (population 267) and Coffee Creek (population 217). Neither of the town have much in them besides a couple of stores and gas stations. 

Trinity Lake is larger than the last lake we covered. It is well known for its beautiful scenery, great fishing, and the Trinity Alps. The Alps are visible from much of the lake and are sure to be the highlight of your trip. 

Many people have even reported seeing bald eagles on Trinity Lake!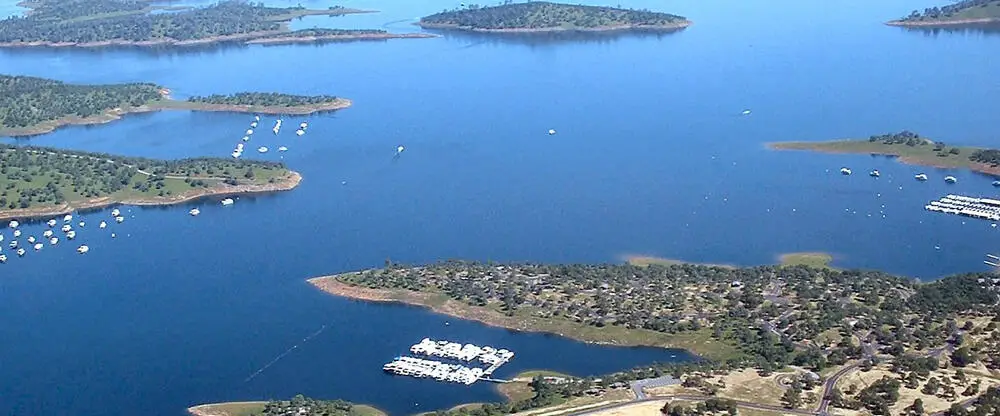 4. Don Pedro Lake 

Don Pedro Lake has 13,000 surface acres with over 160 miles of shoreline. With day use fees of $8 or $85 annually for boats, it is a reasonable price for anyone looking to have some fun in the water. source

Don Pedro Lake is close to many other lakes in the region with Lake Mcclure and New Melones Lake being just a few miles away. If you have a trailerable houseboat, this region is great since there are many different lakes you can travel to in such a small area. 

Don Pedro Lake is home to some amazing fishing opportunities with fishing tournaments happening almost every weekend on the lake.  

With more than a dozen bays and inlets there is plenty of room to spread out or find something to do for everyone on board. 

There are two marinas on Don Pedro Lake one at the north of the lake and one at the south. The one at the south (Lake Don Pedro Marina) has the greatest number of boat rentals with even houseboats being available (although at quite an extravagant price). 

There are 3 campgrounds around the lake but shore camping is allowed so setting up a tent on shore while other passengers sleep on your houseboat is a great option for anyone wanting to "rough it" a bit more than on a boat. 

The closest town to Don Pedro Lake is La Grange (population 345). The closest "large" town is Sonora (25 miles away) which has a population of 4,857. Sonora will have many large stores and is a great place to pick up supplies for your time on the water. 
5. Shasta Lake
Shasta Lake is the largest reservoir in California and the 3rd largest in the USA. Shasta Lake has a surface area of 30,000 acres and has 365 miles of shoreline. 

The views from Shasta Lake are some of the best in the region as you can look out over Shasta Dam as well as look at Mount Shasta. Much of the water in Shasta Lake is in protected inlets so it is a prefect lake to spend some serious time on your houseboat. 

There are a multitude of marinas around Shasta Lake, many with full services to make your boating life amazing! 

One of those marinas, Holiday Harbor rents boats, water toys, and even runs a campground. The boats can be renting with varying prices but houseboats can cost $150 a day to rent (not as expensive as other places but far from cheap). 

Shasta Lake is a great spot for fishing as there are over 20 different species of fish! They stock rainbow and brook trout in the lake yearly and fishing is often good from on board a boat as well as from the shore. 

There are many campgrounds around the lake as well as many different places to anchor along the shore or even pull your houseboat on to the beach. 

Redding is only 12 miles away from the lake and is a town of around 100,000 so you will find everything that you need for a great time boating in Redding. 

Mount Shasta is near the lake and at 14,000 feet it is easily within view from just about everywhere on the water. With scenery virtually unrivaled from on boat or on shore, Shasta Lake is a must visit for every houseboat owner. 
6. Lake Oroville
Lake Oroville has a surface area of 15,500 acres. It has 167 miles of shoreline and is the second largest reservoir in California. 

Lake Oroville is famous for its bass fishing although there are many other kinds of fish in the lake. There are 3-4 fishing tournaments a month on the lake with many of those competing to catch black bass. 

One of the coolest things that they have at Lake Oroville is floating campsites! They have to be reserved ahead of time and are only available April through October but this is certainly a new way to camp. Each floating campsite can hold up to 15 people and comes with a sink, table, propane grill and even a restroom. The floating campsite is $175 a night and can be reserved here. 

If you have a houseboat however, you already have your own floating campsite and it won't cost you $175 a night! 

The closest city is Oroville which has a population of 19,121. Oroville is plenty big to have just about everything that you would need on board. 

7. Lake Tahoe
Lake Tahoe has a surface area of 122,000 acres and is by far the largest lake we have covered. Lake Tahoe only has 75 miles of shoreline as much of the lake is open water while the other lakes we have covered have had many different coves and inlets which greatly adds to the shoreline mileage. 

Lake Tahoe is split almost straight down the middle by the California/Nevada state line. Lake Tahoe has fifteen cities/towns that border it and nine state park/recreation areas. 

Northern Lake Tahoe is a cheaper place to visit and is less built up then the southern part. The benefit of visiting this lake on a houseboat is you have a built in place to stay which partially insulates you from the costs of things. 

There are many marinas around Lake Tahoe that have a large range of services. Most of the marinas offer overnight slips (assuming you don't want to stay on your boat) as well as fuel, and other common amenities. 

Fishing is of course popular on Lake Tahoe but since there is less shoreline than other lakes most of the fishing must be done from a boat. Mackinaw trout are a common fish that fisherman will try and catch as well as rainbow and brook trout. 

There are many campgrounds near shore with some even being within short walking distance. There are many different picnic areas and beaches around the lake as well which are great ways to liven up your day. Just anchor your boat and hop ashore!

The views from Lake Tahoe are quite spectacular and are only rivaled by the clarity of the water. Lake Tahoe is an absolute must visit for everyone but especially those with houseboats. 

8. Clear Lake
Clear Lake has a surface area of 43,785 acres with 127 miles of shoreline. There are a multitude of possible boat docks as there are many full service marinas as well as boat docks and launches all over the place. 

Clear Lake Cottages and Marine has lodging as well as rents a variety of boats and waverunners. Their cottages range from $139 a night to $199 a night. 

Their boat rentals range from $350 to $450 for an 8 hour rental. Those prices include a full tank of gas but obviously they are still quite expensive. 

Clear Lake has excellent bass fishing as well as crappie, catfish, and bluegill. Clear Lake bass fishing is a great way to have some fun! There have been more bass caught between 3-7 pounds than in any other lake in California. 

One neat thing that happens every year at Clear Lake is the annual Splash In. In September every year many float planes will all land in Clear Lake creating the "Splash In". The event is always held on a Friday-Saturday and has been happening for 40 years! 
9. Eagle Lake
Eagle Lake has a surface area of 24,000 acres. With 66 miles of shoreline there are many places to anchor your houseboat and take advantage of the great trout fishing. 

Eagle Lake has some of the best trout fishing in the country! The average Eagle Lake trout is 18 inches in length and 2 pounds but the current record from Eagle Lake is an 11 ¼ pound rainbow trout! 

There are several free launch ramps on Eagle Lake as well as many different marinas where slips can be rented or even boats rented if you desire. Eagle Lake Marina is the only full service marina on Eagle Lake. At Eagle Lake Marina they have all the needed supplies for a day on the lake as well as any licenses, fuel, and even shower and laundry services. 

The closest city is Spaulding with a population of 178. The closest city that will have all the supplies you will need is 15 miles away in Susanville (population 15,000)

There are many different things to do in the Eagle Lake area including hiking, cross country skiing, mountain biking, and horseback riding. 

At the Eagle Lake Recreation area you can watch campfire programs in the amphitheater as well as find many camping spots if you don't want to spend the night on board your boat.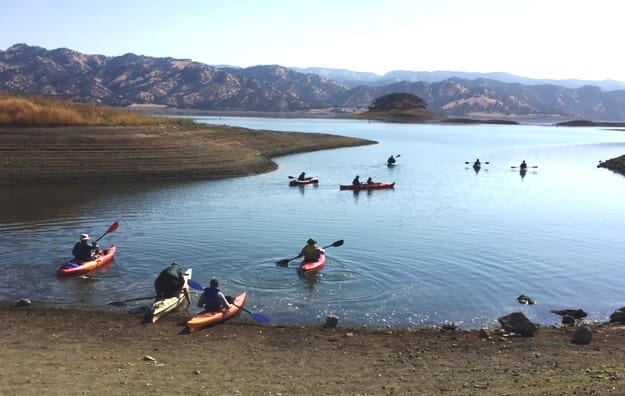 10. Lake Berryessa
Lake Berryessa has a surface area of 18,500 acres and has 165 miles of shoreline. This lake is only 55 miles north of San Francisco so it is popular with many people for weekend getaways. 

There are many boat ramps around the shores as well as 2 full service marinas. The Pleasure Cove Marina is one of the most popular marinas on the lake as they offer many different boats for rent as well as cabins (at $169 a night for the smallest ones). 

Lake Berryessa used to be free but as of August of 2019 they added a daily use fee as well as yearly fees if you choose. Their current fees are $5 a day per vehicle or $80 a year. They also now have a $10 fee for the Capell Cove boat launch. Their current fees can be found at the following link. 

There are ample fishing opportunities on Lake Berryessa for a large variety of trout, bass, and salmon. There are many good fishing spots along the shore as well as from your boat. There are many different inlets to explore as well as to test your fishing skills. 

There are quite a few small towns near Lake Berryessa but just to the west is Napa Valley where you can enjoy the many vineyards and experience some of the best wines in the country. 
That concludes our list of the 10 best lakes for houseboats in California. If you own a smaller houseboat that is easy to move around there are many other lakes that you could enjoy as well. 
There are many different places to have fun on your houseboat or with the other toys you have on board but these 10 are the best of the best in California.
What I always recommend is to go and visit all the lakes in your area over a period of years. You don't want to miss out on a hidden gem of a lake just because it wasn't on a list online. Some of the smallest lakes can also be some of the best as not only are they off the beaten path but they are not as busy and can often have amazing scenery to enjoy while you cruise the shoreline. 

As always be sure and have fun! The best part about having a houseboat is the journey!